Wednesday April 16th 2014
Noon position :  30°26.7 N – 045°53.8 W
Dear people ashore,
After a cosy "Blues eveningparty" with our ship's pianist Gabor and a drink in the piano bar a good night's sleep was welcome. During the night Star Flyer got a bit excited with the increased wind and wave height, but the rolling did not disturb our sleep, in fact the movements of the ship are rocking us asleep.
Bikini's are now replaced by jackets and sweaters but a bit sheltered from the wind the sun rays are still comforting. Temperature at noon is now 19 °C
The swimming pools are emptied because the water was splashing out due to the movement of the ship and the crew takes the opportunity to give them a nice new coat of blue paint.
Inside our AMA-team is exercising with different kinds of safety material. Caroline serves as a model for lifejackets try –outs.
During the morning Staff-meeting we congratulated our hotel manager Adam for the outstanding cuisine. Captain Jurgen told him that when this appraisal comes from Belgians it a proof that it  really has to be very good.
Don't forget that the ship was also been built in Belgium.
While I 'm writing this note, the passengers are dancing their daily Zumba with Hanna and Ingrid is leading her team through the ship for the daily "walk a mile", deck up deck down from fore to aft, seeking obstructions to turn around. Don't forget that physics are important on board because they help us burn the amounts of delicious food we consume daily.
Meanwhile my belly has already an additional ballast of a few kilo's, life is hard!
Capt. Marc
From Bernadette and Mia :
Hoi Teia,
There is no report from Mia and me. We do enjoy every minute of the ocean crossing. No sea-sickness at all, on the contrary!
Love,
Bernadette and Mia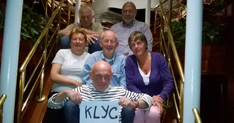 To Pit De Jonge
Thanks for your e-mail and the publicity on the KLYC site, see attached photo.
Stan
From the messenger Spark (Stan).